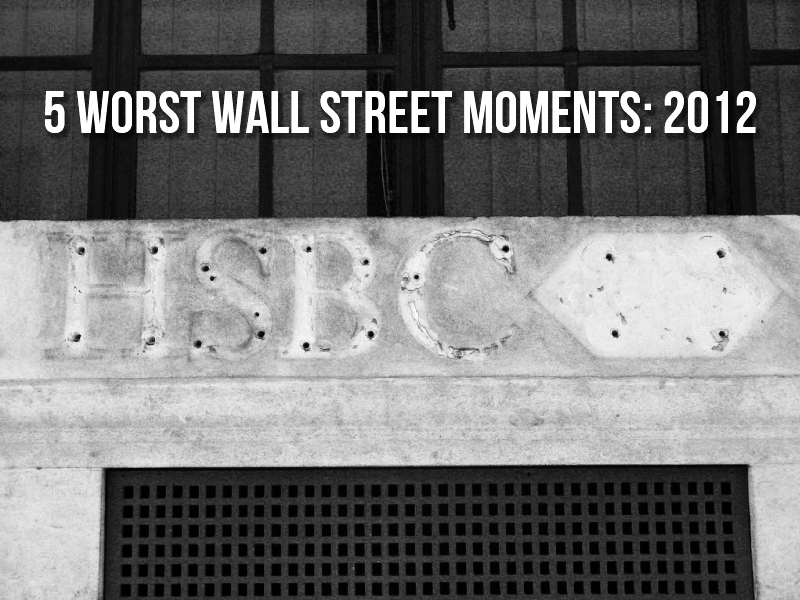 The megabanks were constantly in the news in 2012, often for unpleasant activities. Here are a list of 5 moments that seemed particularly egregious to us.
1. JPMorgan's London Whale loss: Early in 2012, a derivatives trader named Bruno Iskil lost an enormous bet and ended up costing JPMorgan Chase $6 billion. While the nature of this loss isn't as criminal as many of the other banking scandals of 2012, it proves that a single derivatives trader can do major damage to a financial firm—despite the passage of the Dodd-Frank Act.
Why it matters: The London Whale stands out for what it symbolizes: If a firm can unexpectedly lose $6 billion from their derivatives positions, surprising even the CEO of the firm, what is to stop a single rogue trader at any of these Wall Street firms from doing even more damage in the future, damage that may eventually require another government bailout? Derivatives trades have blown up frequently in the last two decades, and the London Whale is proof that that the problem of megabanks gambling with depositor's money isn't fixed.
2. HSBC and drug cartels: HSBC was fined $1.9 billion for several misdeeds over the course of several years, including helping drug cartels launder money. The prosecutors found that the cartels had built special boxes to fit the teller windows at HSBC, and that the cartels sometimes pumped "hundreds of thousands of dollars in cash, in a single day, into a single account."
Why it matters: The $1.9 billion fee is steep, but it seems like it would have made even more sense to prosecute the bank managers who were directly responsible for these cartel transactions. If a manager at a local lender were to commit these same crimes, they would likely go to jail. Why should it be different for a manager who works for a too-big-to-fail bank?
3. Libor manipulation: This year the public discovered that megabanks had been manipulating global interest rates for personal gain. The lawsuit revealed some egregious statements, with one UBS trader saying, "I need you to keep it as low as possible… if you do that… I'll pay you, you know, 50,000 dollars, 100,000 dollars… whatever you want…" and another saying, "JUST BE CAREFUL DUDE… i agree we shouldnt ve been talking about putting fixings for our positions on public chat." (Yes, those words were actually caught on record.)
Why it matters: Planet Money showed that during 2007-09 these megabanks manipulated the global interest rate downward to make themselves look more stable than they actually were. In addition, these lower interest rates hurt people with pensions. The real point here, however, is that the Libor manipulation harmed trust in the markets. The Planet Money article asks, "If banks will lie so casually about one of the benchmarks of the financial world, what else will they lie about?"
4. Knight Capital loss: A computer glitch cost Knight Capital $440 million when an algorithm that was supposed to do a series of trades over the course of several days ran all the trades in under an hour. The firm's stock then fell 73%.
Why it matters: Glitches like this one from Knight Capital symbolize the possibility that crashes on Wall Street can happen very quickly, and that certain trades are outside of human control. All of this high-frequency trading allows some players to make big money when things go well, but when a computer algorithm has a bug like this and millions of dollars are rapidly lost, it doesn't help the public trust the markets. What's more, this Knight Capital loss means that there's the possibility that another, much larger flash crash could lay in the future unless the system changes.
5. Mortgage settlement for megabanks: Five megabanks—Bank of America, Citigroup, JPMorgan Chase, Wells Fargo, and Ally Financial—faced a collective $25 billion settlement over charges that they "routinely signed foreclosure related documents outside the presence of a notary public … without really knowing whether the facts they contained were correct."
Why it matters: When specific lenders at megabanks are caught breaking the law, then those specific lenders should be prosecuted.  If a banker at a small bank would likely be prosecuted for breaking the law, why should a banker at a megabank be immune?
These five moments represent why "too big to fail" has failed. The megabanks make enormously risky decisions that compromise the integrity of the financial system and have the potential to spill over to the taxpayer.
Do you agree with the list? What would you add?
Flickr image above from Will Survive
See our previous posts on HSBC and UBS