3.9K Flares
3.9K Flares
×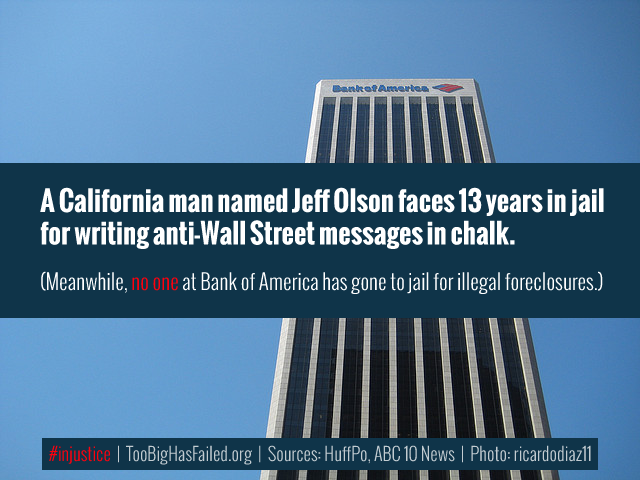 Huffington Post has the headline, and an ABC station in San Diego has the story: Jeff Olson, a California man, wrote sidewalk messages last year that derided Bank of America, and he's currently in trial, facing 13 years of jail and $13,000 in restitution fees.
Oh, and the messages were written in water-soluble chalk. But Bank of America claims that it cost them $6,000 to clean them up.
It's no wonder, then, that Olson said, "Oh my gosh, I can't believe this is happening" as he left the courtroom.
It's a surreal story, especially following last week's revelations six former Bank of America employees admitted that the bank systematically lied to customers in order to foreclose on them. This way bank employees could get bonuses in the form of cash and gift cards.
So compare the actions talked about in this former employee's court statement,
"I witnessed employees and managers change and falsify information in the systems of record, and remove documents from homeowners' files to make the account appear ineligible for a loan modification."
To the actions of Jeff Olson, who protested his ire about Bank of America in water-soluble chalk.
It's as though justice has been rendered completely meaningless.
The one silver-lining to this whole ordeal, if there is one, is that this type of extreme injustice (13 years of jail!) has been known to ignite protests, and if Bank of America is good for anything, it's good for protesting.
Update: We just found this article from the San Diego Reader, which gives the fullest account of the story so far. According to the story, Olson had tried several methods (all peaceful) to protest the actions of the banks when he discovered the idea of writing anti-big bank phrases on the sidewalk with chalk. He'd arrive early in the morning for a few days each week and write simple lines like "stop big banks." Apparently, this kind of activity could get you 13 years behind bars in San Diego. Eesh.
3.9K Flares
3.9K Flares
×